Meguiar's M205 Ultra Finishing Polish Review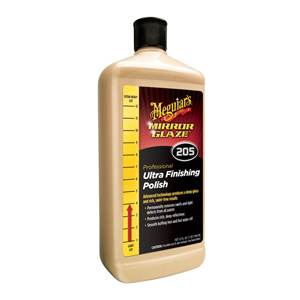 The Ultra Finishing Polish is a professional grade polish formulated with the Meguiar's patented "micro-abrasive" technology that will continually work as long as you work in the application process to polish the surface without breaking down, leaving a smooth, reflective and scratch free surface. Being a finishing polish, do not expect this product to remove severe swirls and / or oxidation, you can use a stronger product like the Ultra Cut Compound or the Ultimate Compound to do the job for you. Consumers agree that this product does a very good job in removing swirls on their vehicle's paint and it is relatively easy to work with using the right tools.
There were only a few negative reviews, but none of which was caused by the product itself rather it was due to the improper techniques used…find out more in the review below.
Read the rest of the Meguiar's Ultra Finishing Polish Review below…
Features of Meguiar's M20532 Ultra Finishing Polish
The Meguiar's finishing polish can eliminate light swirl marks and hazing
It is equally proficient for all types of paint coating
The level of reflection and the gloss of the paint resulted from the polish is astounding
The components of the polish are environmentally safe
The ingredients and the mixture comply to the VOC standards in this field
The container holds approximately 2.2 pounds of polishing solution
Paint Correction
This product is meant to be used as a finishing polish to another Meguiar's product, the M105 Ultra Cutting Compound in removing any remnant swirl marks and hazing (if any) left. On it's own it does a very good job in restoring the car's paint finish to it's showroom shine through the SMAT or the Super-Micro Abrasive Technology which is made up of very tiny aluminum oxide particles which remove oxidized paint and swirl marks resulting in a deep and smooth finish. This is a huge improvement from older diminishing abrasives that you need to break down to work effectively and the side effect of this is usually hazing and some swirls that require more polishing to correct.
Being a finishing polish though, don't expect this product to take off severe paint defects and swirl marks. As any professional detailer will tell you, test on a small area first before working on the entire car and use the least abrasive product first before moving to a more abrasive product when polishing.
Ease of Application
Despite what the label says about this being as effective with hand application, we strongly caution you from doing this unless you have lots of patience, a very strong arm and a of time in your hands.
The best results from this product will be achieved by using the right polisher and pad combo. Great choices would be the W8207 or the W9207 finishing pad. If you are using a Dual Action Polish, optimal speed would be around 5. Use medium to heavy pressure as you work the product on the paint.
Because this product uses the micro-abrasive technology which does not break down and will continue to work as long as you polish, you can over do things and buff longer than needed, drying up the product. The key is finding just the right buffing time without completely drying up the product. Just in case you do, simply apply more fresh product on top of the dried up product and continue the process until the hardened polish dissolves.
You may also notice that the pad can get soiled quickly and may need frequent cleaning during the process.
Ease of Removal
As long as you don't allow the product to dry up, removing excess residue shouldn't be hard.
Gloss
It may sound outrageous, but this is one of the few products in the market that achieves on it's promise but with the proper technique and tools, a mirror and scratch free finish can be achieved with the M205.
Pro & Cons
Pros
Despite being a relatively new product, there were a decent number of reviews, a majority of which liked the results they got. The vast majority liked how this product takes off light to moderate swirls and leaving a smooth finish. This product is best used with the stronger M105 ultra cutting compound to restore moderately to severely swirled up and oxidized paint.
Being a VOC compliant product, you are assured that this is safe for mother earth and for your vehicle. It is not too thick which makes it easier to buff and polish and doesn't have a strong odor that can distract you.
Cons
Yes there were negative reviews here but it wasn't because the product didn't perform, rather it was due to the wrong application procedure done, which caused a long and heated debated. To make the long story short, the individual thought that he could apply this like a wax – applying it on the entire vehicle, allowing it to dry then buffing off the residue afterwards. The results were disastrous to say the least, he had a very tough time buffing a dried polish, he ended up purchasing an Autoglym kit. If you read the instructions carefully, it states that you need to work on small sections and not allow the product to dry.
This product is meant to be used as a "finishing" polish, meaning it will take off any remaining scratches and hazing that may be left behind by a stronger compound, if you are looking for a compound that will take off severe paint defects look elsewhere.
Customer Reviews
Reviews were overwhelmingly positive, with only one negative review in Amazon which is laid out in detail in the pros and cons section of this review.
"Amazon had a good deal on this so I went for it. This is really a second polish or if you your paint is in good shape this does the trick.... (Read More)"
"My black seven-year old car had very heavy swirl marks after a "detailer" at a car wash removed hard water spots from the paint. The car looked horrible… (Read More)"
Price
(Back to top)
Because this is a professional grade product, it is more expensive compared to a consumer grade product, and can cost more than 30 dollars if you purchase it in retail stores. Good news though! Amazon offers great deals on the Meguiar's Ultra Finishing Polish and comes with FREE SHIPPING if you sign up with their Amazon Prime program. Check it out in Amazon to get the best price.
Conclusion
Overall, a very very good product from Meguiar's, it does what is says it will do, a rarity in today's over saturated car care market. A great product for serious detailers who want nothing short of a perfect mirror shine in their vehicles.