Meguiar's Ultimate Compound Review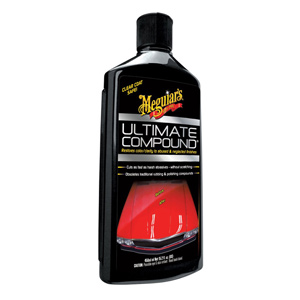 Introduced in 2009, the Meguiar's Ultimate Compound is most aggressive compound in Meguiar's consumer grade polishing line that includes Swirl-X, Scratch-X and the Ultimate Polish. Specially formulated for the amateur detailer who doesn't have access to orbital buffers such as the porter cable or the DACP. Purpose of this product is to remove moderate to heavy oxidation, scratches and swirl marks without leaving any scratches or holograms not possible with traditional compounds. Consumers loved how it cuts through oxidation and polishes off scratches leaving a smooth finish.
Reviews also show that not all people were satisfied with paint correcting abilities of this product, saying that it didn't remove scratches. So what's up with the contrasting reviews? Does this product really work?
Read the rest of the Meguiar's Ultimate Compound Review below…
Features of Meguiar's G17216 Ultimate Compound
The product guarantees to effectively eliminate any trace of oxidation present on the coat
Swirls and scratches are proficiently taken care of
The Meguiar removes potential water spots (even the old, stubborn ones)
It contains micro-abrasive (non-harmful) particles in its composition
It achieves restoration of the paint coating's clarity without causing scratches
The Meguiar also confers the paint a certain level of gloss even before applying wax or polish
It constitutes the ideal pre-waxing solution for virtually all categories of paint
Paint Correction
Using traditional compounds, getting rid of oxidation and scratches can be time consuming and often times lead to even more scratches that require more polishing to correct. Meguiar's addressed this issue by introducing micro-abrasive technology in the Ultimate Compound that eliminate if not reduce these scratches. This is possible because it breaks down quicker allowing the product to cut through the oxidation and smoothen scratches without too much effort as demonstrated in the video below.
Results in the video above were pretty impressive considering it is done on a single stage paint (meaning it doesn't have any clear coat on it) and that it was only applied by hand. Take note that this product will work on both single-stage and clear coat finishes.
If it doesn't completely take off oxidation or scratches on the first application, do a second or third application on the same area. The important thing is you work in small sections, don't allow the product to dry, and use the correct technique specially on hand application.
Ease of Application
Formulated to be easy to use by hand, the Ultimate Compound does not require heavy pressure, moderate pressure will be enough to work this product in but you'll have to work in small sections at a time as this product dries pretty quick. Just in case it dries up, add fresh product on top of the dried up compound, this will dissolve it and make it easy to remove afterwards. For best results in hand application, use a foam applicator, this will help you in spread and work the product in.
Tip: If you are planning to apply by hand, test on a small section to see if you can remove the scratches before doing the entire vehicle.
To speed up the process and get the best possible results, use an orbital buffer like a porter cable or a DACP as demonstrated in the video below. Using the DACP, use the yellow pad and set the speed between 3 and 5 then work in overlapping patterns using moderate pressure, make sure that pad is flat on the surface as you go. As with hand application do not allow the compound to dry as this can also cause scratches as small particulates from the dried up compound can get in between the pad and paint.
Ease of Removal
Always remember that this the UC is not meant to be left out to dry, letting it dry will make it a very difficult to wipe off and may cause even more swirls. Just in case it dries up, you'll have a work around for this – add a fresh product on top of the dried up one. This is a technique the pros use that will dissolve dried up compound and you won't have any trouble removing it afterwards. Remember to use a microfiber or a terry cloth towel to buff the excess product off.
Gloss
When done correctly the paint will be almost if not free from oxidation and scratches and really smooth. Remember that if the scratches are really deep or the paint has severe oxidation (to a point of paint failure) you might need to use a stronger compound or may even need to wet sand it. This product has some oils in it which makes it easier to apply by hand, and these same oils also fills up more shallow scratches, but if these oils dry up scratches will show up again.
Pro & Cons
Pros
Being in the market a few years, it has received a number of reviews online. A majority gave it a very high rating. Consumers liked how it removed the oxidation and swirl marks on their vehicles and saying it was easy to use compared to other products in the market. Some said it was one of the few products in the market that really worked as advertised! With it being a consumer product, the learning curve isn't as steep as compared to a pro grade compound. It contains oils that act as a lubricant which make it easier to work the abrasives on the paint, you do not need to push too hard on the pad for the compound to work, in fact pushing too hard can do more harm than good.
Using the proper technique and tools it will bring back a dull, oxidized or swirled up paint back to life. It can be used with a machine such as the porter cable or a dacp or even by hand, though results using a machine will undoubtedly be better. It's also effective on plastic parts like the headlights or tail lights, saving you money on buying other products such as the plasticX.
Cons
Despite all the positive reviews, this product has it's share of negative ones. It can be confusing that while others rave about the paint correction abilities this product has, others say it failed them on this aspect. Why? There  are a lot of factors involved when using a compound on paint. What pad was used apply? Did they buff a dried up compound? Was this applied under the sun? What towel was used to buff? Get any of these wrong and the product will not work or worse end up with more scratches. Correct technique is absolutely vital to determine the success and / or failure of this product.
Customer Reviews
Majority of consumers like how this product performed, saying it actually delivered on it's promise. There were also a few negative reviews saying it didn't perform up to par but overall it got a very good score. This is discussed in detail in the Pros and Cons section.
"I have to admit, this is probably the best compound one could purchase as a consumer. It's a little on the milder side but that's a good thing... (Read More)"
"I have been detailing cars for many years and bought this product on a whim, mostly out of curiosity regarding its name, "Ultimate Compound."… (Read More)"
Price
(Back to top)
For a very good compound, the price is very competitive at under ten bucks comparing to other products in the market. Check it out on Amazon to get the best deal, and get FREE SHIPPING if you sign up to the Amazon Prime program.
Conclusion
To conclude, the Meguiar's Ultimate Compound is a great product for amateur detailers looking for an easy-to-use product that can take off oxidation by hand without too much effort compared to professional grade compounds to bring back the shine to dull oxidized paint. Make sure to spare a few hours if you're planning to apply this by hand as it takes time to do this properly.