Meguiar's Dual Action Cleaner/Polish Review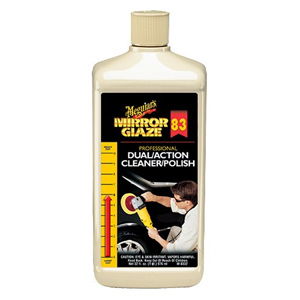 The Dual Action Cleaner and Polish is another product from the Meguiar's professional line formulated to remove light to moderate paint defects. In terms of aggressiveness, this product is right smack in the middle (in between the M105 and M205).
Like with many other products in the Meguiar's polishing line, this product also contains diminishing abrasives which is a big reason reason why this product has been so successful all these years. These abrasives literally break down into smaller and smaller particles as you polish until it disintegrates to "nothingness" as Mike Philips would say it – hence the term "Dual Action".
Some may confuse this product with the Dual Action Polisher or the Porter Cable Dual Action Polisher but these are completely different – these are the tools you use to apply this polish on the paint.
It isn't a very popular product for new detailers because of the price and it is marketed for the pro market, but with the right tools in hand newbies need not be afraid to use this product.
Read the rest of the Meguiar's Dual Action Cleaner/Polish Review below…
Table of Contents
(click the title to jump ahead!)
Features of Meguiar's G17216 Ultimate Compound
Formulated to remove light to medium paint defects, oxidation and blemishes
Has polishing oils that result in a vibrant shine
Contains the right combination of abrasive cleaners and rich polishes to produce a deep glossy shine
Safe on all automotive finishes from single stage to clear coated finishes
Paint Correction
In terms of abrasiveness right in the middle (around 60 out of a 100), and there is a learning curve if you're gonna good results.
It will not remove severe cob webbing, holograms or swirls especially on very hard clears but for moderate defects on softer clear coats it will do a very decent job if you use the right pad and machine for a particular task.
Meguiar's designed this to be used with the PC Dual Action Polisher as well as the Meguiar's Dual Action Polisher but some professional details have had success using this with a rotary buffer on more serious scratches.
Take note that if you're gonna use with product with an oscillating buffer like the Porter Cable or the DA Polisher, it tends to leave behind professionals love to call hazing or micro marring. So you'll have to follow up with a finishing polish if you're gonna use this with an oscillating buffer.
Ease of Application
Even if it states in their website that you can use this by hand, don't, it will be too time consuming and your arm might fall off with all that rubbing motion. The only way you'll be able polish a whole vehicle with this product is by using a machine.
You don't need to use a lot for this product to be effective, the opposite tends to happen when you use too much – it won't cut as effectively because the pads become too saturated to fully break down the micro abrasives that's needed to be broken down for this to effectively remove swirls.
Experts would recommend that you clean the pads after it gets soaked, or use a fresh pad.
What pad do I use?
Depending on the severity of the defect you can start with a polishing pad and move up to a cutting pad if it gets more severe.
If you still can't remove the swirls using a cutting pad and a PC or G-100 then the solution would be a rotary and a wool pad (in the hands of an experienced detailer).
Ease of Removal
As I pointed out in the previous section, you don't need to use too much of this product to be effective, around 2-3 pea sized drops on the pad is enough in a 12 x 12 inch area.
Using too much also makes this very hard to remove.
Gloss
When used with the right pad and in the right amount, it produced a smooth and deep shine as most reviews online pointed out but remember if you use this with an oscillating buffer, it will leave some fine scratches so you'll need to use a finishing polish afterwards.
Pro & Cons
Pros
Micro abrasives break down and produce a deep and smooth shine
Great to have if you have moderate paint defects that only requires a moderately aggressive polish
Cons
Tends to leave micro marring when used with a oscillating machine like the porter cable and it needs to be followed up by a finishing polish to get the smoothest finish possible

Since it is a professional product, it is expensive
Produces a lot of dust as it is with most compounds and polishes
Customer Reviews
Most reviews came from experienced detailers who were very happy with the results they got, since this is quite expensive there aren't a lot of reviews available online.
"I used this with the G110 DA and a w8000 pad. I followed it with Meguiar's Swirl remover and a w9000 pad..."
"The best buffing compound or polish that you can buy for hand-polishing or for use with inexpensive buffing machines…"
Read all the reviews in Amazon

Price

Professional polishes like these aren't readily available in your local auto parts center but it is available on Amazon, check it out and get FREE SHIPPING if you sign up to the Amazon Prime program.
Conclusion
This product would be great if…
If you have a vehicle that has moderate swirl marks and oxidation that you want to clean up yourself. Even though this product is for "pros", a novice to intermediate detailer can use this with a porter cable or a Meguiar's DA polisher without the risk of burning the paint, severe oxidation may require a stronger compound and a rotary which isn't recommended for a novice. Remember to always test on a small portion first before working on a larger area.