Klasse All-In-One Polish Review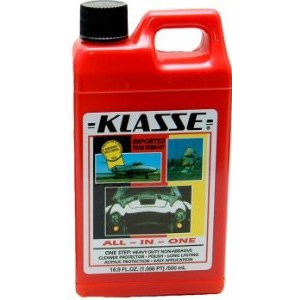 The Klasse All In One Polish is one half of the famous "Klasse Twins", the other half being the high gloss sealant glaze. The so-called AIO as detailers are fond of calling it can be used as a stand alone product because it leaves a protective coating but the results are only maximized when used as a tandem with the sealant glaze.
This is a light polish formulated to remove light surface scratches plus oxidation and is not meant to be used as your primary polish so if your paint has moderate to heavy swirl marks, take care of that first using a more aggressive polish.
Based on reviews, this product received a near perfect score without any 2 or 1 star rating and the single 3 star rating it got was from a consumer who didn't use this with the klasse sealant. Find out below why this product is a favorite by car enthusiasts world wide.
Read the rest of the Klasse All-In-One Polish Review below…
Important Note: Before applying wax or sealant be sure you've prepped the paint, doing this gives you a clean surface for the wax or sealant to bond to and this will maximize the protection it gives, your car will also have a better shine. If you haven't read our guides on how to wash, clay and polish, please take the time to do so, it takes a bit more effort but it will be worth it in the end.
Table of Contents
(click the title to jump ahead!)
Features of Klasse AIO Polish
Can remove light oxidation, swirl marks, and other light paint blemishes
Leaves a protective coatint that will last for 6 months
Does not contain wax or polymers but made from an acrylic formula
Provides that carnauba shine and depth that will last much much longer
Paint Correction
Take note that this product is only meant to polish light surface defects that surface scratches and oxidation, anything more severe than that you'll have to use something more aggressive like this.
Professional detailers will clay first before applying this product, this takes out surface oxidation and gives your car's paint a clean surface that for this product to cling on to, remember that waxing on a paint that isn't clayed is like painting on a surface that isn't sanded – it will not stick and will not last long. This is extra work but the results will more than make up for it.
Ease of Application
One of the best traits of the all in one polish, it is very easy to apply and remove. You only need to use thin coats, to achieve this use a foam applicator like this sprayed with a bit of quick detailer. This isn't a wax on wax off product or a WOWO, so you can apply it on the whole vehicle then buff off afterwards.
Almost all people who used this – be it in forums or shopping sites agree that it is one of the easiest products to apply and it won't stain plastic or rubber so you don't need to worry if you get it on there.
Ease of Removal
Very easy to buff off, even after it dries up – one of the big reasons this is a favorite product by car buffs world wide.
Gloss
It produces more of a reflective shine than a mirror-like depth because it is a synthetic product, but if you combine this with the sealant plus a carnauba wax (remember to observe proper curing times – around 12-24 hours after each coat), the results will be stunning.
Pro & Cons
Pros
When applied and cured properly (meaning, you don't use your car for at least 12 hours after application to let it dry), it will last for months, 6 months is the best case scenario depending on the weather conditions and humidity levels.
There are waxes in the market that tend to attract more dust, the meguiars 26 comes into mind, but this product doesn't attract as much as compared to the 26 based on several forum posts I've found online and opinions of a detailer friend who introducted me to this product almost a decade ago.
Another pro is the depth and shine it gives which is usual for a non-carnauba product, a lot of detailers would suggest that you use this plus the sealant plus a carnauba wax to really bring out the deep and glossy mirror like finish we all look for.
Cons
It is a bit pricey compared to products like the mothers or meguiars but since you won't need to apply this product very often, the cost isn't a big of a deal because even with the smaller 33oz container, it'll last you a very long time – as long as you use thin coats.
Customer Reviews
A majority of car fanatics loved how this product performed, particularly how easy it is to apply and take off and the extended protection it gives even as a stand alone product.
Price

Because of its price this product isn't readily available in retail stores, and if you're lucky enough to find one, it'll cost double that it is online. Great news is that amazon has it on stock so check it out and get free shipping if you register with the Amazon Prime program.
Conclusion
This product is great if…
You're a car nut that doesn't have too much time in your hands to constantly wax every other week (most waxes in the market will only last a few weeks) but still want to get that deep and mirror like shine comparable to a carnauba wax only a few products in the market can give you.