Car Interior Cleaning
Before we get started please refer to the tools required for car interior cleaning for product suggestions.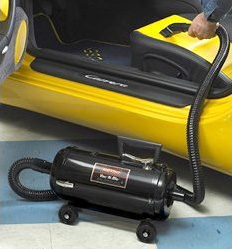 Most of us focus on the exterior when we clean our cars, however we spend most of our time inside when we drive around so it makes sense to keep this area clean.
If your car has leather seats and interior, check out our How to Clean Leather guide for an in-depth guide in taking care of leather.
Car manufacturers will use different types of materials inside whether it be vinyl, cloth, leather, faux wood or a combination of this. So this guide is divided into sections for you to better understand what tools, cleaner's and dressings to use in each section.
Start with a Good Vacuum Cleaning
Remove all the floor mats, shake as you remove them to take off any loose dirt and debris.
Start with the rear. If you have the Metro Vac N Blow, use the different attachments with it to vacuum the carpet, seats and other dirty areas.
Do the same with the front part of the car.
Vacuum your car at least twice a month to help prevent the build up of dirt and dust inside.
Cleaning the Carpet and Floor Mats
A regular vacuum will be enough for your regular interior maintenance but on instances where you have stains or you accidentally poured something on your carpet or mat, you need to thoroughly clean and wash to take off all remnants off the stain and odour caused by it.
Before you start, vacuum the carpet and floor mats thoroughly. You may need to remove all the seats, so make sure you have the correct sized socket wrench for this.
Take out the floor mats and seats. If you can take out the carpets that would be great, it will make your job easier. If not, that's okay.
Fill a bucket with a couple of gallons of warm water.
Spray the affected areas with a spot cleaner. Use an upholstery brush to agitate the dirty areas, dip the brush in bucket as you go to keep it wet.
Wipe off the excess cleaner and suds with a damp microfiber towel.
Throw away the water in your bucket then refill with warm water.
Rinse the carpet thoroughly with water and a microfiber towel, use as little water as possible. If you had taken off your carpet, this step would be easier.
Vacuum the carpet to take out excess water. You may need an extractor for this.
Allow the carpet to dry, leave all the windows and doors open to help speed up the drying process.
If had taken off the carpet then you can spread it on the driveway under the sun to dry. It will also takes away any foul odour it may have prior to cleaning.
Window Care
Use an ammonia-free cleaner because ammonia is not safe on tinted windows. Spray cleaner on a microfiber towel then wipe down and clean the windows.
Dashboard and Console
The dashboard gets the most abuse as it is constantly exposed to the UV rays from the sun. After every wash, use a damp towel to wipe down the dash and console. Don't forget to wipe down the steering wheel, shift gate and turn signal levers.
At least once a month, apply a vinyl protectant on the dash and console for protection against UV rays. Spray protectant on the foam applicator and not directly on the dash or console then wipe on. Spraying directly on the dash may result in some over spray on the windows and other upholstery. After it dries, buff off the excess residue.
Avoid using silicone based protectants. The silicone in these products leaves an oily residue that will attract dust and be harmful to your dash in the long run. Use water-based products that leave a nice matted finish without the oily residue.
Vents and Grills
Use a small detailing brush and some compressed air to clean, if you do not have compressed air then use the blow function of the vacuum. If the vents are really dirty, spray the vinyl cleaner on a foam or cotton swab to clean out dirt.
Properly Maintaining Vinyl and Plastic
Both vinyl and plastic, though durable, need regular cleaning. Unlike cloth, vinyl and plastic will create static that attracts dust that can result in a very dirty surface if not cleaned regularly. The good news is these materials are easy to clean and maintain.
Don't use a detergent or dish washing soap to clean vinyl and plastic. It can take away the natural shine and gloss from vinyl or plastic.
You can use leather cleaners on vinyl but do not use vinyl cleaners on leather.
Simple Steps to Care for Your Vinyl and Plastic
Spray cleaner on the panels.
Use a microfiber towel or a terry cloth applicator to work the cleaner on all the seams and crevices. You might need to use a small brush to be able to clean the hard to reach areas.
If the cleaner requires rinsing, use clean water to thoroughly rinse and dry with a microfiber towel.
Leave all the doors and windows open to allow the panels and seats to dry. You can use an electric fan to speed up the process.
After drying all the seats and panels, apply vinyl or plastic protectant to restore the natural shine and protection.