Zymol Z503 Car Cleaner Wax Review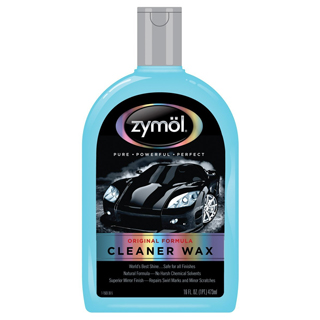 Zymol Z503 is actually two products in one, it combines the cleaning properties of polish compounds and protecting features of high quality car wax. Because it contains natural cleaners such as almond meal, chalcedony crystals and kaolin clay, it is not harsh or rough on the paint coating.
True, chalcedony crystals are probably the last thing you want to rub on the surface of the car. However, you have nothing to worry about, as the amount of chalcedony is low enough to prevent minor scratches, yet sufficiently high to account for an efficient cleansing.
Read the rest of the Zymol Z503 Cleaner Wax Review below…
Important Note: Before applying wax or sealant be sure you've prepped the paint, doing this gives you a clean surface for the wax or sealant to bond to and this will maximize the protection it gives, your car will also have a better shine. If you haven't read our guides on how to wash, clay and polish, please take the time to do so, it takes a bit more effort but it will be worth it in the end.
Features of Zymol Z503 Cleaner Wax
Abrasive-free
Solvent-free
One-step formula
Includes natural ingredients (Aloe Vera, lemon oil, coconut oil, shea nut butter, bees wax, yellow carnauba, almond meal, kaolin clay)
Easy to use
Pleasant odor
The container has 16 oz capacity, which is more than enough for 10 treatments
Durability & Protection
It won't outlast a sealant in terms of protection, but it can hold it's own against other cleaner waxes in the market, as much as a few months according to several reviews. But because of it's makeup of natural ingredients which have a tendency to break down in severe weather conditions like high humidity, how long it protects will be dependent on where you live.
Ease of Application
Applying the Zymol Z503 will take a bit of time because you need to break it down for it to work effectively. Around a couple of hours for a mid-sized sedan, much quicker if you use an orbital buffer like the porter cable. It is recommended to apply it under a shade and on a clean surface, preferably right after a car wash.
Remember to follow instructions carefully on application, for hand application work on a 2 to 3 square foot area using a straight line motion to avoid creating more swirl marks. For machine application, it's the same, work on a 2 to 3 square foot area at a time. Use overlapping passes.
Try to avoid smearing this product on non painted rubber or plastic parts like weather strips and door guards as it can cause discoloration. Have a dressing on hand to keep the plastic and rubber parts from fading and keep it look new.
Ease of Removal
The difficulty or ease of buffing off the Z503 will depend on (1) how much wax you applied, (2) if you waxed under a shade or outdoors, and (3) whether or not you sprayed with a fine mist of water before wiping it off. Avoid waxing with this product without shade as it can dry up pretty quickly. That's why it is recommended that you wax on and wax off in sections as opposed to applying it on the entire vehicle before buffing.
Gloss
As a car owner, you are familiar with the destructive effects of sunlight to the paint and clear coat on the vehicle. No matter what you do, sooner or later, you will notice that thin oxidized layer over the coating which makes the paint finish appear dull and dirty.
Because it has cleaning and light polishing properties, it leaves a smooth finish afterwards. It also fills up deeper swirls leaving a deep mirror-like shine which a lot of consumers liked and raved about.
All photos are from Amazon.com customers.
Pro & Cons
Pros
The biggest benefit of the Zymol Z503 cleaner wax is that you can remove oxidized paint and stains as well as add protection on your vehicle – all in one step. It also does a good job in filling swirl marks as well as removing light scratches, leaving a smooth finish. And since this product is made up of natural ingredients, you won't get the strong solvent odor that other sealants or waxes have allowing you to work without needing to wear a mask.
To get a clue about the capabilities of the dual-action wax polish, it is enough to mention that one customer claimed he is currently using it to repair scratches on sunglasses, lenses, CDs and DVDs. How can you get the best results? Well, we must warn you that you will need to dedicate two hours of your time for this task.
And despite being a cleaner wax, it is above average in terms of durability. Some reviews mentioned that it lasted them a couple of months which is very good for this type of poduct.
Cons
Applying the product is not hard at all, but it does take a lot of time, as you need to spread it on the surface of the car with straight-line motions without employing too much pressure. Nonetheless, it usually dries extremely fast and you can immediately start wiping the stuff off the surface of the car. It is a bit expensive compared to other cleaner waxes in the market but not as expensive as boutique hundred dollar waxes out there.
Customer Reviews
Overall, the vast majority of customers are happy with the results of this two-in-one car care product. It is necessary to mention that the only setback for the users who have rated the Zymol Z503 lower was the price. However, the rest of the customers were quite impressed with the shine they managed to obtain from using a product that acts like a soft peeling cleaner as well as a car wax with light polishing properties at the same time.
"Back in the day, I had done some detailing work, and we all loved Zymol. The wax was rather costly, however... (Read More)"
"I used it by hand and had a hard time getting to wipe off without leaving streaks… (Read More)"
Price
Conclusion
A very good two way product that cleans and protects at the same time, it will save you a lot of time because you won't need to polish to remove surface oxidation and other imperfections, provided that it isn't severe. Despite the time it takes to apply, the effort will be well worth it.