Zymol Carbon Wax Review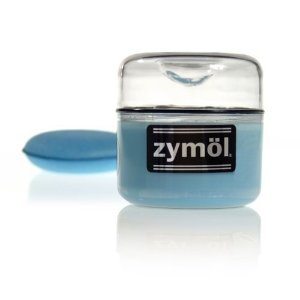 Formulated specifically for medium to darker colored vehicles, the Zymol Carbox Wax is one of the few waxes in the market that is entirely made of natural ingredients that is hand formulated which is the reason why it is expensive, around 3 to 4 times more than other car waxes in the market.
Most reviews came from owners of black vehicles who were impressed with the mirror finish and depth this wax gave their vehicles, I'll be the first to tell you that this wax isn't for everyone as you'll find out in this review.
Read the rest of the Zymol Carbon Wax Review below…
Important Note: Before applying wax or sealant be sure you've prepped the paint, doing this gives you a clean surface for the wax or sealant to bond to and this will maximize the protection it gives, your car will also have a better shine. If you haven't read our guides on how to wash, clay and polish, please take the time to do so, it takes a bit more effort but it will be worth it in the end.
Features of Zymol Cleaner Wax
Highly recommended for vehicles with darker paint
This carbon wax has been hand formulated
Impressive results even with a minimum quantity applied
An applicator pad is the best way to smear the wax
Carnauba oil (37%) is part of the ingredients, along with banana and coconut oils, propolis, Cetyl Cocoamide and Esters
Applying Zymol HD-Cleanse can enhance the bonding between the surface of the paint coating and the wax
Durability & Protection
The presence of carnauba wax in the Carbon Wax means that this product will give you excellent protection against UV rays. Durability however is another story, natural ingredients don't hold up as well compared to synthetic ingredients and will break down when exposed to harsh elements. Baseline figure on durability would be around 3 to 4 weeks.
Durability can be enhanced through layering, but how many layers? That would be up to you, at least 2 coats would be enough, 3 or more if you're really OC.
Ease of Application
The natural ingredients make this wax very buttery and since you'll be using only thin coats, application will be easy. Remember to use a foam applicator and not a towel to spread the wax on the surface.
Once the surface has been prepped, it's time to smear a small quantity of Zymol Carbon wax on the applicator and start buffing the car in a side to side motion. The ideal approach is applying it on a 2 x 2 sq. ft. area and allowing approximately 20-30 seconds before drying. Lastly, start buffing the section with a microfiber towel in the opposite direction. Rinse and repeat. On a side note, the curing time for the Zymol wax is approximately 40 minutes.
Ease of Removal
As long as you don't go crazy on the amount of wax you put and don't let this product dry up you should be fine. Though the instruction states that you have to wait 20-30 seconds before buffing, you might want to start as soon as you finish applying the wax. So unless you want a workout and sore arms, buff off as soon as possible.
Gloss
If I'd tell you the make up of this product without showing you the actual item, you would think that its some sort of a dessert or pastry but it's actually a wax! But all these ingredients are put in there and designed to bring out a deep mirror like shine on dark colored paint that car enthusiasts crave for.
Any owner of a black vehicle will tell you that any type of scratch, no matter how light it is, will be visible on this color. This was does a good job in filling in swirl marks and scratches, it does not contain any polishes so don't expect it to remove scratches.
Pro & Cons
Pros
Because it is designed for medium to dark colored paint, expect it to deepen and give a mirror like shine to your vehicle. This is what most consumers who owned black cars mentioned in their reviews. Take note that most of the people who used the carbon wax also purchased the HD cleanse and were very satisfied with the results.
Cons
It is quite expensive, despite that you can maximize each bottle by using very thin coats which Zymol encourages, as the saying goes "less is more".
And because it is made up of all natural ingredients and has enzymes, you'll have to refrigerate it after opening, yes! you heard that, you'll need to refrigerate this wax. Make sure you don't take off the label of this wax when you put it in the fridge so others won't mistake it for food.
Customer Reviews
There are not a lot of reviews which shows you that this wax for the most discerning car connoisseur who wants get the deepest and smoothest shine on their vehicles. Almost all reviews in amazon reveal that consumers were satisfied with how the Carbon Wax brought out the depth and shine on black paint.
Price

Definitely not the cheapest but not the most expensive one if you compare it with other high end waxes. If you'll buy this in retail stores, it'll cost you over $80. Good news! Amazon has great deals on the Zymol carbon wax and you'll get FREE SHIPPING when you sign up with Amazon Prime.
Conclusion
Like what I've said earlier in this review, the Zymol Carbon Wax is not for everyone, it is for the car connoisseur who pampers their vehicle. If you own a darker colored car and want to get that deep wet shine, give this product a shot.