Turtle Wax T-6A Carnauba Car Liquid Wax Review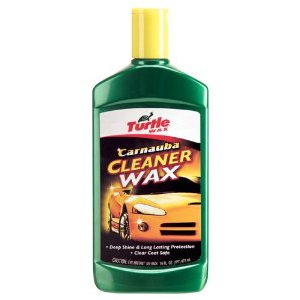 Featured in Consumer Reports as of the best buys for liquid waxes, one quick glance at the price reveals that unlike the typical high-power wax, the T-6A does not cost you an arm and a leg. True, owners of expensive vehicles may view the capabilities of this wax with skepticism considering its price and will be tempted to go for a costlier one.
But the Turtle Wax T-6A is literally equally – if not more proficient – in negating the environmental factors that diminish the shine of the paint and conferring it an exquisite appearance. Before you invest in an expensive wax and dismiss this product, let us first look at T-6A's features first!
Read the rest of the Turtle Wax T-6A Carnauba Car Liquid Wax Review below…
Important Note: Before applying wax or sealant be sure you've prepped the paint, doing this gives you a clean surface for the wax or sealant to bond to and this will maximize the protection it gives, your car will also have a better shine. If you haven't read our guides on how to wash, clay and polish, please take the time to do so, it takes a bit more effort but it will be worth it in the end.
Features of Turtle Wax T-6A Carnauba Car Liquid Wax
Carnauba-based waxes like the T-6A confer ultra-high shines and safeguarding
The T-6A constitutes an effective cleaning solution as well
Can be utilized regardless of the car's finish type
The wax is enriched with a Carnauba extract, making the mixture even more potent
The durability of the wax coating over time is impressive
Excellent repellant against water stains (the water drops slide right off)
Pollution atmospheric factors no longer present a threat to the shine of the car
The Turtle T-6A wax is an efficient barrier against ultraviolet rays
Incredibly simple to apply and buff off
Virtually inexpensive considering its proficiency
The wax bottle measures 4x2x9 inches (easy to manipulate) and the quantity of car polish inside is 16 ounces
Durability & Protection
Durability will be average and expect it to last for a few weeks, best case scenario would be a couple of months – depending on weather factors such as humidity, temperatures and amount of rain. UV protection is very good because of the carnauba present in this product.
Ease of Application
This is tied up to whether or not you followed instructions in applying this wax which states that the surface has to be cool to the touch. This product can't be applied on a surface that is too hot. Use a damp applicator and only thin coats are needed. If applied on a surface that's too hot, it'll dry up quickly making product removal difficult.
Ease of Removal
Generally easy to remove as long as you don't leave this product on for too long or expose it too the sun, as one consumer pointed out – he was waxing his car a part of it was left exposed to sunlight and when he was in the process of buffing the product off, the part exposed to the sun was more difficult to remove compared to the non-exposed parts. Take note that this stuff dries really fast, so you'll be better off waxing and buffing one section at a time.
Gloss
The cleaners in it does a pretty good job in cleaning and shining both single stage and clear coated paint finishes. In several reviews, owners of cars with non-clear coated paints were quite satisfied with the shine and durability gave their vehicles (one amazon customer had an 11-year old car).
Pro & Cons
Pros
Rates well in Amazon and in Consumer Reports were it was rated as one of the best waxes in the market, were it ranks higher than more expensive waxes like P21S Concours. The latter part was a major reason why people buy this product and they walked away generally satisfied because of the shine and protection it gives. It may not compare with more expensive products in terms of shine and / or durability but in terms of the price to performance ratio it will stack up to the best of them.
The T-6A can be applied using only standard pads and you can wipe it off with microfiber towels after less than 10 minutes or after it hazes. Quick, simple, straight to the point but nevertheless, effective! You should also know that while some of the carnauba based waxes have a tendency of discoloring the trim, the T-6A does not.
Cons
Despite the high praises this wax has gotten, it is not without it's weaknesses. Durability would be the biggest one here, despite claims by some people that it'll last a few months that would be the best case scenario.
If you want an all around wax that's reasonably priced without sacrificing quality for your daily driver, then this is the product for you. If you're a connoisseur who wants show-car quality shine or live in areas with extreme conditions and need the extended protection you may want to look elsewhere.
Customer Reviews
Again a number of people bought this product because of the "Best Buy" award in Consumer Reports, and they came away generally satisfied after using the Turtle Wax T-6A Carnauba Cleaner Wax.
Price
One of the more affordable waxes in the market today, despite that it's quality is not too far off compared to more expensive waxes. Check it out on Amazon to get the best deals and get FREE SHIPPING if you enrolled in their Amazon Prime program.
Conclusion
The T-6A is an inexpensive wax that, when compared to the costly waxing and polishing products on the market, will hold it's own. The carnauba extract is what gives the T-6A its durability and a very decent shine, but the unique mixture of ingredients proprietary to this product taken as a whole can be regarded as superior to the vast majority of alternatives, in terms of cost effectiveness.