Turtle Wax Premium Grade Rubbing Compound Review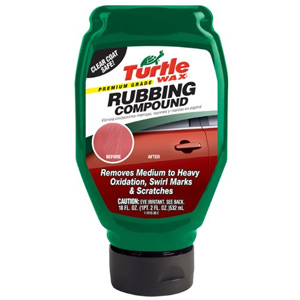 The Turtle Wax Rubbing Compound is formulated to remove moderate to heavy swirl marks, oxidation and scratches, it can be used by hand or with a machine.
You can use this as a spot treatment or to remove 1500 grit and up sanding marks left after wet sanding.
People who used this product loved how it was able to make the scratches almost invisible after several applications, mostly done by hand.
There are others however that weren't happy at all with the results saying that it didn't even take off the scratch. Why the discrepancy in the reviews? let's find out why in the review below.
Read the rest of the Turtle Wax Premium Grade Rubbing Compound Review below…
Important Note: Before applying wax or sealant be sure you've prepped the paint, doing this gives you a clean surface for the wax or sealant to bond to and this will maximize the protection it gives, your car will also have a better shine. If you haven't read our guides on how to wash, clay and polish, please take the time to do so, it takes a bit more effort but it will be worth it in the end.
Table of Contents
(click the title to jump ahead!)
Features of the Turtle Wax Rubbing Compound
Can be applied by hand using a foam applicator, terry cloth or microfiber towel
Takes out moderate to heavy swirl marks and scratches
Also safe for machine use with an orbital buffer combined with a cotton, microfiber or foam pad
Safe to use on most automotive paint finishes – clear coated and non-clearcoated surfaces
Paint Correction
Like in all polishes, if you're using this by hand, you'll need more than one application to fully take away the scratch on the paint. Before you apply this, examine the scratch and see if you can feel it with your fingernails, if you can chances are you will need to wet sand it but that's another topic all together.
A majority of car owners who reviewed this product were happy with how this product take out the scratches and making them almost invisible. There's a handful however that weren't happy at all with the results – these people most likely have deeper scratches that cannot be polished by hand alone.
Often times deeper scratches will need to be polished by a machine such as the dual action p0lisher or a rotary using a cutting pad or a polishing pad depending on the severity.
Ease of Application
It will take a lot of elbow grease to work this product and break it down, you need to do this so that the compound will be able to do its job and remove the scratches. If you are not able to remove the scratches on the first try, a second or third application may be needed. If you can't remove the scratch by the 4th or 5th application, you may need to use a machine. But remember not to use too much, a little really goes a long way.
For the best results, use a foam applicator and apply it in small circular motions.
Ease of Removal
As long as you don't use too much of this product, it won't be hard to wipe off.
Gloss
As long as the surface is prepped and this product applied properly using the right tools, it gives a pretty good shine and gloss to the paint. Again if you're applying this by hand, you may need more than one application to take off the scratch.
Pro & Cons
Pros
Does a good job in removing scratches, oxidation, and watermarks not only on paint but also on other surfaces like glass, metal and aluminum
It isn't very expensive at just under $10
It can remove paint that may be transferred on your vehicle in a collission
Cons
Not strong enough to remove moderate oxidation and scratches in a single application – it may take two or three application to make scratches invisible to the naked eye
Customer Reviews
Car owners who used this product raved on how it was able to remove light to moderate scratches on their vehicle. Not all consumers who boat this product used it on their vehicles though, there was one review that mentioned using this product on their boat and was really happy with the result. Another use this product on a refrigerator, so it isn't limited on paint, you can use this a variety of products not only cars.
"We had a stainless steel refrigerator, just a few years old, with many small scratches on the surface... (Read More)"
"My cats scratched the hood of my Jeep so I decided to give good ol' Tutrle Wax a try… (Read More)"
Price

This product is a consumer grade product so it'll be widely available in your local pep boys store but you can get a good price if you buy it in amazon, check it out and get free shipping if you register with the Amazon Prime program.
Conclusion
This product is great if…
You're looking for a product that can remove those tiny little scratches your car that really gets on your nerves and you've been dying to remove.