P21S Concours Carnauba Wax Review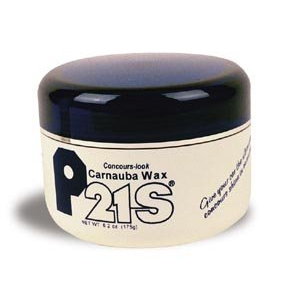 The P21S Concours Carnauba Wax combines both beeswax and carnauba to create a product that is very easy to apply and remove, and even if you accidentally smear it on plastic or rubber, it won't stain it, all of these are confirmed by reviews.
However there were several negative reviews bashing this product and saying that it was overpriced and it doesn't bead nor hide swirls as well as other products that are much cheaper.
Read the rest of the P21S Concours Carnauba Wax Review below…
Important Note: Before applying wax or sealant be sure you've prepped the paint, doing this gives you a clean surface for the wax or sealant to bond to and this will maximize the protection it gives, your car will also have a better shine. If you haven't read our guides on how to wash, clay and polish, please take the time to do so, it takes a bit more effort but it will be worth it in the end.
Features of P21S Carnauba Wax
Includes natural ingredients like beeswax and carnauba
Does not contain any dyes, perfumes, abrasives or adhesives
Easy to apply
It is a quality, natural car wax solution that will not leave residues over the paint
It will not stain the trims or the plastics parts of the vehicle if you happen to spill some carnauba wax on them
Durability & Protection
The presence of carnauba wax in this guarantees great protection against paint tarnishing UV-rays, durability however suffers. Expect it to last around 3 to 5 weeks which will be dependent on the heat, humidity and other environmental conditions. One way to extend durability is adding more coats, two or three coats will be sufficient, make sure to allow enough time to "cure" – usually between 24 to 48 hours. Another way is by using this as a Last Step Product (LSP) on top of a sealant such as Klasse – this is a favorite combo among detailing enthusiasts.
Ease of Application and Removal
One of the first thing you'll notice about this product is how soft it is, partly because of it has beeswax in it. This makes it very easy to apply, so easy that you can get too much on the applicator, despite that it'll still be easy to remove and it won't streak. The best tool you can use to spread this product thinly is with an applicator pad.

You can apply this on the entire vehicle before buffing, drying time will be around 30 mins to an hour. Unlike other waxes were it can be difficult to remove if you leave on for too long, you will not have that problem with this product.

Gloss
The near universal consensus in Amazon and all other car sites and forums is that the P21S Concours wax gives a natural carnauba warmth, depth and gloss in any color, it'll be more dramatic on a darker colored car. Adding more coats will definitely improve both shine and gloss.
It also leaves a smooth finish that'll will literally feel like glass when you run your fingers over it. In one review, one fella noticed that dirt seemed to slide off when he sprayed water on his vehicle.
Pro & Cons
Pros
Because of it's makeup, this wax is soft, soft as butter as one consumer noticed which make this wax almost foolproof in terms of application and removal. It doesn't matter how much you put it or how long you wait for it to dry, it will still come off easy, without leaving any streaks or any powdery residue.
This wax will work well on any color, but results are most dramatic on darker colored vehicles, leaving a really smooth finish and a deep shine. Remember that this wax doesn't contain any abrasive ingredients and will not take off swirl marks, it will only fill it up. Read more about polishing in this article.
And you don't need to worry about accidentally getting this product on rubber or plastic parts because it'll not stain it.
Cons
Despite all the positive reviews this is far from a perfect wax. As with any other waxes made from natural components, durability will suffer, don't expect this wax to last for months as other synthetic sealants or waxes give but the main purpose of this wax is beautification not durability.
Price is another concern as most people would have second thoughts on buying a wax in this price range, but the fact that you need only a little means that one 6.2 oz. container will give you over 10 uses, depending on the size of your vehicle.
One particular review mentioned that this product is the same as the S100 which is half the price compared to this wax, if anyone can confirm this let me know.
Customer Reviews
There aren't too much reviews in Amazon, but a most consumers were satisfied with the results they got. Both positives and negatives are highlighted more clearly in the Pros and Cons section.
Price
Definitely not cheap but compared to other top tier waxes it is competitively priced. Check it out on Amazon to get the best deals, it is eligible for free shipping when you join their Amazon Prime program.
Conclusion
If you consider all the benefits you'll get from this wax – easy application and removal, brilliant shine, doesn't stain plastic or rubber and the fact that you just need a little for it to be effective – and all this for just under $40, it is decently priced. Definitely not for regular folks doesn't do too much detailing work but if you're a car nut that's obsessed with car care this may be the product for you. It isn't cheap but consider that there are more expensive waxes out there that cost hundreds and even thousands of dollars but won't give you at least twice the results you'd expect in that price range.