Nu Finish Liquid Car Polish Review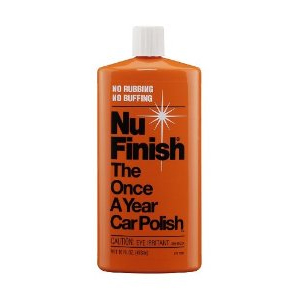 Despite what the name says, the Nu Finish Car Polish is not a polish nor a wax, it does not have any paint cleaners nor polishes (though some claimed it has cleaning properties), it is a synthetic sealant with polymers designed to give extended protection, as much as a year the manufacturer claims. Consumers mainly loved the beading, durability and protection this product left despite being described as one of the worst smelling waxes ever.
Reviews were mixed when it comes to the shine, some were pretty happy about it others were disappointed, it is really subjective to be honest, if you are expecting a Zaino-like shine with a product in this price range you will be disappointed.
Nu Finish stands by this product with a 30-day money back guarantee.
Read the rest of the Nu Finish Liquid Car Polish Review below…
Important Note: Before applying wax or sealant be sure you've prepped the paint, doing this gives you a clean surface for the wax or sealant to bond to and this will maximize the protection it gives, your car will also have a better shine. If you haven't read our guides on how to wash, clay and polish, please take the time to do so, it takes a bit more effort but it will be worth it in the end.
Table of Contents
(click the title to jump ahead!)
Features of Nu Finish Liquid Car Polish
Several specialty consumer publications have rated Nu as number one product (in terms of duration, protective factor, gloss enhancement and excellent retail values)
It has two varieties: paste form and liquid form (liquid wax is the one reviewed in this article)
Users can apply directly in sunlight
Does not contain any natural waxes
Has a wide array of applications (from household fixtures to fiberglass watercrafts or personal planes)
Effective protection for virtually all weather conditions
Incorporates zinc cross-linking polymers in the composition (in the form of emulsions)
Can be used on various surfaces such as chrome, stainless or fiberglass
Provides protection against tar, bird droppings, and etc
Durability & Protection
Living in a country were the rainy season lasts for more than half a year, one feature I want my wax or sealant to have is durability. That is the main selling point of the Nu Finish Liquid Car Wax, in fact the manufacturer claims that you'll only need to wax your car once a year with this product… hence the name "Once-A-Year Car Polish".
One year protection may be a stretch if you live in a city with high humidity, it will not last the year, maybe 3 or 4 months tops.
"Layering" is a long time practice by professional detailers were you add another coat of wax on top of the existing one after it cures, usually 24 hours, Nu Finish states that you need to wait 30 days to apply a second coat to maximize durability, personally I don't think you have to wait that long, maybe 24 to 72 hours. Having 2 layers is enough provide your car as much as a years worth of protection according to reviews.
People don't have a garage and live in an area with extreme weather like snow will appreciate the extended protection that this product will give.
Ease of Application
The instruction states that you need to use a damp terry cloth to apply, allow it to dry to a haze then wipe off with a dry towel, working a section at a time. Two important points here, apply with a damp cloth and wipe off after it hazes. The damp cloth helps in spreading the product on the surface.
Another option and a better option in my opinion would be using a foam applicator sprayed with a bit of quick detailer, this will help you apply thin and even coats.
It also tells you to use a circular motion when applying this product, I would suggest you do otherwise as this could cause swirl marks if a small debris gets in-between the cloth and paint specially with the dust it produces.
Avoid letting this product dry because it will be TOUGH to remove afterwards, one section at a time them remove the product
Ease of Removal
It is pretty clear based on the reviews that if you want too long before buffing it can get pretty tough to remove. Remember as soon as it hazes up, it's time to wipe it off with a clean microfiber or terry cloth towel.
Another factor to consider is the ambient temperature, if it is too hot product can dry up pretty quickly and make it hard to remove, although the instruction states that you can apply directly on a warm or hot surface or even under the sun, it will be better to apply it under a shade. Though this is a big plus for individuals without a benefit of a garage to park their vehicles in.
Gloss
Since this product is a sealant do not expect a carnauba-like shine and depth but the protection it gives will more than make up for this supposed con. Most carnauba waxes in the market will last a few weeks while this product will last a few months… so there is a trade off.
Despite that a lot of people who used this product are satisfied with the gloss, some even claiming that this product has cleaning properties in it.
Treat this product as a sealant, so if your car has swirls on it, polish it then apply this wax afterwards.
Pro & Cons
Pros
Despite the majority of positive reviews there are still issues with this product. A majority of consumers who used this product loved how this product held up even in the worst weather conditions from snow to extreme heat. Even after multiple car washes it will still bead, it lasted a year according to one review after applying the second coat.
This is a pretty versatile product, you can also be used on boats, motorcycles, airplanes (yes airplanes!), motorcycles and even on household products, just don't use it no non-painted plastic or rubber.
Cons
This product will leave white stains on plastic trim as several people noted, the product description did warn consumers not to apply it on plastic so be careful. You can use some tape and old newspaper to mask the plastic trim before you wax. Just in case you accidentally apply it on plastic trim, try using wd-40, mineral oil or peanut then agitate with a toothbrush then wipe off, just don't leave it on for too long before you try to remove it or it will be a pain.
As I mentioned earlier in this review, if left on for an extended period it can be pretty difficult to wipe off, so the manufacturer recommends to buff as soon as it hazes. Though some would claim that you can apply it on the entire vehicle then wipe it off easy.
This product does not hide swirl marks well as it does not fill well as several have noted that swirl marks were magnified after they applied this product. Since this product does not have any polish, it is advised to polish if your vehicle is heavily swirled.
Customer Reviews
Great protection and long lasting durability, these are the two most common adjectives mentioned by consumers, with a majority giving it a 5 star rating! Reviews were mixed with regards to the shine and the ease of wiping off, check out the pros and cons section for the detailed lowdown on what to expect with this product.
"My white car had many light scratches, as well as stains from parking under a tree, which I couldn't get out with soap and water… (Read More)"
"Applied in garage (in shade) after washing 08 BMW 328i Coupe. Had a hard time getting it off… (Read More)"
Price
(Back to top)
The Nu Finish Liquid Car Polish is one of the more competitively priced sealants in the market. Cheaper than more expensive brands than Klasse or Meguiars but still a good performer. You can check out on Amazon and get great deals.
Conclusion
This would be a great product for you if…
You don't have a garage or don't have time to wax every month and prioritize extended protection rather than the appearance of your vehicle. Remember to apply in sections then buff off immediately afterwards or you'll have trouble removing this afterwards.