Mothers FX SynWax Liquid Review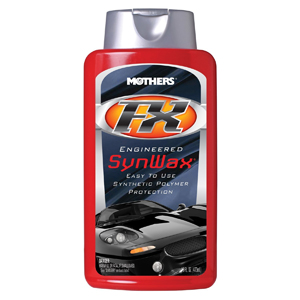 The Mothers 20016 FX SynWax is engineered using synthetic ingredients formulated so that application and removal is easy and effortless. Because it contains synthesized ingredients, you can be certain that you do not have to dedicate all Sunday afternoons for waxing your vehicle.
Consumers love rave about this wax because it is easy to apply and remove without leaving any powdery residue. Several people who used this product have black vehicles and they love how this product covers up the swirls and deepens the shine of the paint.
There were some concerns though in terms of the residue build up and staining on the plastic and rubber parts. Find out more in the review below.
Read the rest of the Mothers 20016 FX SynWax Liquid Review below…
Important Note: Before applying wax or sealant be sure you've prepped the paint, doing this gives you a clean surface for the wax or sealant to bond to and this will maximize the protection it gives, your car will also have a better shine. If you haven't read our guides on how to wash, clay and polish, please take the time to do so, it takes a bit more effort but it will be worth it in the end.
Features of Mothers 20016 FX SynWax
It can be spread quickly and gracefully
The SynWax Liquid incorporates an engineered encapsulation process for better and faster application
Among the few products that can actually give that "wet" paint look
Offers protection against UV rays and the elements
Durability & Protection
Since this product is synthetic, it will last a bit longer than carnauba waxes but don't expect months of protection though. According to reviews, durability will last as little as a week of protection to as long as a month. And also because of it's synthetic composition, it offers a layer of protection against UV rays.
Ease of Application
The Synwax can be applied by hand or through an orbital buffer, pour in a small amount (preferably a dime sized) on an applicator and work on a two to three square foot area. If you are using a towel as an applicator, turn frequently when it is soiled. Using a machine, set it at low speed then work the product in until it breaks down.
Ease of Removal
Wait for the wax to haze before you start buffing it off, preferably using a microfiber towel. Though it won't leave any powdery residue, it may leave some streaking which is more noticeable on darker vehicles. If it does streak, wipe off using a damp microfiber, or spritz the area with a quick detailer then wipe off.
Gloss
Mothers describes it as a "crisp, sharp and glossy shine" as opposed to a warm gloss that carnauba waxes are known for. You might be asking ,what the heck is the difference? To put it simply, synthetic waxes offers a flat yet, mirror-like shine and a carnauba waxes give more depth, adds more warmth and gives more of a "wet look" to the paint. So often, professional detailers like to combine synthetic and carnauba waxes in car shows to get the best of both worlds.
Take note that this also contains light polishes that can remove light blemishes and oxidation, to remove moderate to severe oxidation and paint defects please use a polish.
Pro & Cons
Pros
It does not have a ton of reviews online, but a majority rated it highly. Consumers like how easily it goes on and comes off, as one reviewer mentioned it cut his waxing time in half. It gives a great mirror like shine that is most noticeable on black cars.
Essentially, the formula of the Mothers 20016 FX is designed to improve the texture of the paint. A closer look at the composition reveals a few fundamental ingredients responsible for eliminating surface flaws and adding a layer of protection from the road and natural elements.
Cons
One of the negative comments regarding Mothers SynWax actually indicated that the customers did not follow the instructions. For instance, one customer complained that the black plastic parts (on which he mistakenly applied liquid wax) of his car became grey after leaving his car outside in heavy rain immediately after polishing. As the label clearly states that the product should be applied only on the paint coat of the vehicle, this incident is clearly not related to the efficiency of the Mothers liquid wax.
Be careful also that you don't get this product in creases and crevices of your car, as it can leave a white residue that can be an eye sore.
Customer Reviews
This product got mostly positive reviews online, with several very unhappy customers, why the contrast? Those reviews showed that this product was very easy to use without leaving much powdery residue, several mentioned about this wax leaving a swirl free finish on their vehicles. This is laid out in more detail in the pros and cons section.
"I have a detail shop that puts out about 400-500 vehicles a month.And we have been in business for 8 years now. So you can say that i have seen or used just about everyones waxes/polishes. Mothers FX works great on the old cars as well as the newest 2006 models… (Read More)"
"I have a brand new Subaru and the car looked good after application. Three days later the creases of the cracks showed white residue that was not hard to remove… (Read More)"
Price
(Back to top)
Compared to it's competitor, Meguiars, it is cheaper and it comes in a 16 oz container which is more than enough for around 25 uses (depending on the size of the vehicle). Check it out on Amazon to get the best deals, this product is eligible for FREE SHIPPING if you subscribe to the Amazon Prime program.
Conclusion
The Mothers FX Synwax did not disappoint in terms of shine, ease of application and removal, being made from synthetic polymers it is should last longer than carnauba waxes but this wasn't clearly stated in the reviews. Regardless, an affordable and good performing wax – just be careful not to get it on rubber or plastic surfaces. If you have own a black or a darker colored car you may want to consider this wax.