Mothers 05750 California Gold Pure Brazilian Carnauba Wax Liquid Review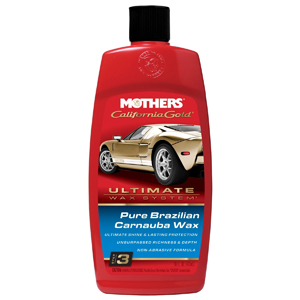 The Mothers 05750 California Gold Pure Brazilian Carnauba Wax is step 3 of the Ultimate Wax System that includes the pre-wax cleaner and sealer & glaze. Made from Brazilian #1 yellow carnauba. It doesn't contain any cleaners nor abrasives, so it's main purpose is to protect the paint coating, significantly enhance its appearance and boost the shine without a negative impact on the paint over time.
A majority of people who bought this product loved the deep shine and mirror finish it left on their vehicles, several owners of black cars highly recommend the 05750. This pure carnauba wax fills up the microscopic scratches and swirl marks leaving a smooth finish. It goes on easy and no hard buffing is needed to remove.
However there were concerns about the durability of this wax. Here are a few things you need to know about this wax before you buy.
Read the rest of the Mothers 05750 California Gold Pure Brazilian Carnauba Wax Review below…
Important Note: Before applying wax or sealant be sure you've prepped the paint, doing this gives you a clean surface for the wax or sealant to bond to and this will maximize the protection it gives, your car will also have a better shine. If you haven't read our guides on how to wash, clay and polish, please take the time to do so, it takes a bit more effort but it will be worth it in the end.
Features of Mothers 05750 California Gold Pure Brazilian Carnauba Wax Liquid – 16 oz (Ultimate Wax System, Step 3)
Comes in 16 a ounce bottle
Does not contain abrasive substances among the working ingredients
Adding a secondary coating on top of the original one enhances the protection levels and appearance
The carnauba ingredient functions as an excellent heat protector
Higher gloss and shine compared to most products
Was awarded the title of Consumer Reports Best Buy
Extremely quick application and dry times
This wax can be buffed immediately after the spreading process is completed
In conjunction with other car maintenance products from the manufacturer, Mother 05750 notably improves the appearance of the vehicle
Durability & Protection
To get the most out of this wax in terms of protection, you'll have to add more layers to it, maybe around 2 or 3 layers will do. Make sure to let it properly "cure" before adding another layer and to prep the surface well. Learn more about polishing by reading this article.
In terms of how long this wax will last varies, according one review it can last around 2 to 3 months, with carnauba waxes it can vary depending on the weather conditions and the prep work done. Regardless of the length of protection, one thing carnauba does well is protect paint from harmful UV rays that can wreck havoc over time.
Ease of Application
Product application is simple, using a damp microfiber or applicator pad, pour in a dime sized amount then spread thinly on a 2 x 2 foot surface. Most customers who used this agree that product application is easy to apply and remove.
Ease of Removal
Another great feature of the Mothers 05750 is how quickly it dries up right after application, you don't need to wait 20 mins or so as required by other products before removing it. It is essentially a wax on and wax off product, do one section at a time.
Reviews are mixed in terms of the ease of removal, some complained it being difficult to buff, others raved about how easy it is. It is best to follow instructions and not let it sit for a long time before taking it off.
Gloss
This is were the Mothers 05750 shines so to speak, because of it's brazilian carnauba mixture, it deepens and adds excellent gloss to darker colored  paint like black, blue or red. Several mentioned that they've got complements on how good their vehicles looked despite being a few years old, others used the 05750 to wax their classic 30 plus year old vehicles.
Pro & Cons
Pros
Since this wax is made of pure Brazilian carnauba the number one compliment that it got was the excellent gloss and shine it gave their vehicles, especially owners of darker colored cars. Another benefit of carnauba is it's swirl filling capabilities, meaning it hides swirls quite well, leaving a mirror-like finish.
This stuff is pretty easy to use as well, just remember to use a damp applicator. You don't have to wait long before you can remove this product. For example, one of the users who purchased the Mother 05750 product stated that before he was done spreading the wax on one of the car's panels, it was already dry enough to commence the buffing.
Cons
If there is a downside to natural wax like canauba, it would be durability and it is no different with the Mothers 0570. To my surprise, there is one user who claimed it lasted him a few months but that could be due to the good weather conditions in his location and good prep work prior to wax application.
Customer Reviews
Amazon customers give this an excellent rating primarily because of it give their vehicles that reflective carnauba shine that car enthusiasts love.  The reviews however, are not 100% positive, there were folks who weren't satisfied with it's performance and yet gave it a 4 star rating, that left me a bit stumped.
"After using this product, I will never again use any "non 100% carnauba" wax product. The difference is noticeable. My only complaint is that… (Read More)"
"This is my first Mothers product ever! And I cannot believe the outcome! I'm a big fan of Mcguiar for years, but I'm starting to change my throught now… (Read More)"
Price
(Back to top)
Out of all the waxes we reviewed the Mothers California Gold Pure Brazilian Carnauba Wax provides great value for money with it being  made out of pure Brazilian carnauba, a few other waxes in the market can make this claim. Check it out in Amazon for the best deals in car waxes.
Conclusion
This would be a great product for you if…
You own a dark colored vehicle – particularly blue, red or black, this will definitely make this color pop and stand out, and since this is a pure carnauba wax, you will be able to layer this and get add even more depth to your paint. Remember that this wax isn't meant to last very long time, in humid weather conditions expect this to last just a few weeks, in less humid areas, it'll last at least a month or two.
Professional detailers would combine this with a sealant to get the best of both worlds – longevity and gloss, just make sure that you allow enough time for the sealant to "cure" before applying this wax.