Meguiar's Deep Crystal Carnauba Wax Review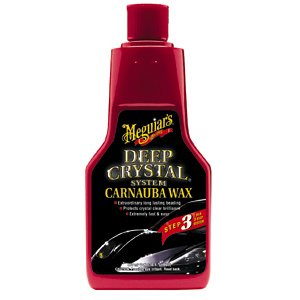 The Meguiar's Deep Crystal Carnauba Wax is the final step of the 3-step deep crystal system developed by the experts in Meguiar's to (1) clean, (2) polish, and (3) protect the car's finish, giving the vehicle's paint back it's showroom shine. Despite being one of the cheaper products in the Meguiar's product line, consumers were generally satisfied with the gloss and depth it brought out from their vehicles.
Several people also noticed it had the same smell and consistency of the more expensive pro grade Meguiar's #26 wax. Durability however is a big question mark as several people noticed that it doesn't last beyond two to three washes. Find out everything you need to know about this carnauba liquid wax.
Read the rest of the Meguiar's Deep Crystal Carnuba Wax Review below…
Important Note: Before applying wax or sealant be sure you've prepped the paint, doing this gives you a clean surface for the wax or sealant to bond to and this will maximize the protection it gives, your car will also have a better shine. If you haven't read our guides on how to wash, clay and polish, please take the time to do so, it takes a bit more effort but it will be worth it in the end.
Features of Meguiar's Deep Crystal liquid wax
Highest quality carnauba wax for the best shine money can buy
Non-abrasive exotic ingredients for smoother and simpler application
Long lasting beading
Protection from the elements (UV rays, rain, and contaminants)
Durability & Protection
Great UV protection because it is a carnauba wax, longevity will depend on the prep work done on the paint, meguiar's suggests that you use all three products in this 3-step product line to achieve maximum durability. In a properly prepped surface, expect it to last for as little as a few weeks to a little over a month.
Ease of Application
Safe for both machine and hand application. Use a foam applicator to help you get thin and even coats, although a microfiber towel will also suffice. Avoid applying under the sun or on a hot surface as it can dry up the wax rather quickly. Allow product to dry to a haze prior to buffing.
Ease of Removal
Goes off easy as well but like I said in the previous section, avoid spreading the product on a hot surface or buffing will be tough. One trick experts do prior to removal is spraying quick detailer on the panel, this helps further reduce residue and streaking, and adds to the shine.
Gloss
With regards to the Deep Crystal Carnauba  wax, it is highly subjective – either people love it or not, so it'll be up to the expectation of the individual. Adding more coats can add to the depth and deepen the color, it also does a good job in filling up swirls, leaving a smooth mirror finish.
Pro & Cons
Pros
Not surprisingly, the Meguiar's has received the near maximum rating from the customers. However, you need to follow the steps included in the instructions for the finest results, as one user pointed out. Essentially, even if he skipped the first step, he quickly remarked that he attained the shiniest vehicle surface he had seen in a long time. Nonetheless, it is best to stick to the application directives and apply a gentle cleaner, especially if you haven't visited the car wash for a while.
For maximum effects, you should apply the liquid wax and then buff it across the surface with a clean microfiber towel. Besides, considering that the Meguiar's carnauba wax solution is liquidly and not a paste, you will finish waxing quicker than you think.
Another aspect that was appreciated by customers was the drying duration. According to a satisfied customer who applied the Meguiar's in a summer afternoon, it only took several minutes for the wax to dry completely. The only thing that was imputed to this deep crystal carnauba wax solution is that it does not last more than one or two car washes.
Cons
We've mentioned all the positives, now lets go to the negatives of this product. One confusing thing in the reviews is quality and depth of the shine, while several people were very happy, others say it was at best…average. That boils down to personal preference, every person has his or her own expectations when it comes to the resulting gloss of a wax, it is highly subjective. Also prep work on the paint is vital in determining how good or bad the shine is, all things being equal, it is still very good.
Also this isn't a durable wax because it does not have any polymers in it to make it hold up for several months. Best case scenario would be a month, if you don't wash your car often or if it doesn't rain too much.
Customer Reviews
Despite it's weaknesses, the ratings were generally positive with a lot of folks satisfied with the results. Read a summary of the strengths and weaknesses of this product in the Pros and Cons section.
Price
One of the more affordable waxes in the vast product line of Meguiar's, can be expensive if you buy it in retail stores though. Check it out in Amazon to get the best price from Amazon. Great news! If you enroll in the Amazon Prime program you can avail of the FREE SHIPPING.
Conclusion
If you are looking for a cheaper alternative for the Ultimate Liquid Wax or the NXT Wax, the Meguiar's Deep Crystal System Carnauba Wax is a very good choice, though the durability and shine wouldn't be the same compared to these synthetic waxes, the price difference makes up for it. It is also a good choice as a last step product.