Liquid Glass LG-100 Ultimate Auto Polish/Finish Review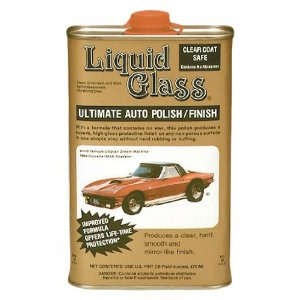 Not many people may have heard of Liquid Glass LG-100, but it has been on the market for a while – since the early 1980's. It is a synthetic sealant that does not contain any wax. This product is known for its ability to mitigate the effects of the most common elements that destroy the exterior look of the car. From road salt deterioration and bird dropping infiltration to tree scratches, rust and corrosion – the high gloss finish will cover just about anything.
What is great about this auto finish is that once it is air-cured, it solidifies and becomes just as lustrous and durable as reinforced glass. Therefore, you will never have to bother with dealing with cracks, scratches, peels or discoloration of the paint.
Customers love the durability, gloss, and overall protection it gives to their respective vehicles, motorcycles and even boats and fire trucks. One mentioned that he used it on his plane, so imagine the extreme conditions that a plane goes through – you know that Liquid Glass backs up it's claim to leave a clear, hard and smooth mirror-like finish.
Several people however weren't happy mainly because this product instead of hiding swirls, magnified it and made it more visible. Whether or not this product is right for your vehicle depends on how much you prioritize extended durability.
Read the rest of the Liquid Glass LG-100 Ultimate Auto Polish/Finish Review below…
Important Note: Before applying wax or sealant be sure you've prepped the paint, doing this gives you a clean surface for the wax or sealant to bond to and this will maximize the protection it gives, your car will also have a better shine. If you haven't read our guides on how to wash, clay and polish, please take the time to do so, it takes a bit more effort but it will be worth it in the end.
Features of Liquid Glass LG-100 Ultimate
One great feature of on this product is the durability that you won't find in most car waxes in the market. Other features include:
You will never have to remove it once applied
Extremely resilient glossy finish
Does not entail the common issues of other auto polishes, meaning that it will not turn yellow in time, crack or peel due to meteorological conditions (rain, intensive heat or haze)
Contains no wax
Comes in a 16oz container
Safe on plastic trim
Can be applied under direct sunlight
Durability & Protection
One of the strongest suites of the L-100, tough enough to be used on fire trucks and boats, both of which will need better protection as they are subject to harsher environments. In fact Liquid Glass claims that if you put on 25 coats (yes! you can put on that many) it'll be chip resistant! Just remember the 4 hour curing time in between coats.
It provides a layer of protection from things like bugs, snow, tar, paint overspray, and salt that can do some serious damage on paint. This was mentioned several times in the review, one in particular mentioning that it protected his car from yellow overspray from people painting on the roads.
Ease of Application
Shake very well before applying, instruction on the back states that you will need to use a coarse cotton cloth and apply it with a straight back and forth motion, interesting to note that you'll have to apply on a warm surface (50 – 90 degree F) as stated in the directions – you can do this by applying it under the sun. I prefer to do may wax application indoors.
It also states that you may see some paint on the cloth – which will be the case if your vehicle's paint is single stage or doesn't have any clear coat. But this indicates that this sealant also has some light polishing / cleaning properties that can take off light oxidation. Also avoid using a circular motion during the application process as this can cause swirl marks as one consumer mentioned in his review.
You can wipe on and off per panel or apply this to the entire vehicle before buffing, it won't matter, what matters is that you'll have to "bake" it under the sun for four (4) hours for it bond well on the paint. Don't apply any wax prior to putting this on as any wax will disrupt the bonding process and hurt the durability. Also if the paint has some moderate to heavy oxidation, you may want to polish that off first prior to application of this product.
Ease of Removal
Instruction states that you need to use a terry cloth or a turkish towel, but you can also use a microfiber towel as well. You may see streaks on darker colored paint but this can easily remedied by wiping it off with a damp towel.
Gloss
This product does not have great filling properties as one consumer noted, after he applied this, the swirl marks on his motorcycle was more visible. This stuff has to be applied on a clean wax-free surface, if the paint has old wax, heavily oxidized paint or swirl marks you'll have to address that with a good polish prior to putting this on. Liquid Glass recommends that you use it's pre-cleaner but any good quality polish will do. When done right, the resulting shine will be worth all the effort as noted by a majority of the reviews.
Pro & Cons
Pros
This product has been around for decades with that there are a number of reviews, mostly are positive. Consumers love how this product provides excellent protection against water spots, bugs, snow, salt, road tar, stains and other harsh elements. It is not a wax on-wax off product meaning you can apply LG-100 on the whole vehicle first before buffing off. Usually in about an hour you can finish an entire vehicle, just be careful not to put too much as it can leave a bit of residue after.
Not only can you use this on paint, but you can also use this on other non-porous surface like glass or windshield and it does not stain the plastic parts.
Cons
As with most products with in the market there are still issues. The 4-hour curing or "baking" time, can be too much for some when you want to add more coats but there are other products that needs to be cured longer than 4 hours so in our opinion a little bit of patience can be rewarded with gleaming results after 2 or more coats. It may leave some streaking on some colors like red, but that can be easily solved by spraying some quick detailer or water on the panel as you wipe off.
As with most products in the market you may also notice a odor coming from this product as is expected from any product made with chemicals and other synthetic ingredients. For health reasons, wear a mask when working with this product.
It can also be a bit tricky pouring this product on your applicator because of they way the container is designed, one thing you can do is place the applicator pad or microfiber towel on top of the opening then turn it upside down to get the product on the applicator.
Using the proper technique is critical, meaning avoid using circular motions as this may cause swirl marks as one consumer found out.
Customer Reviews
There is no surprise that the Liquid Glass LG-100 has received the maximum rating almost unanimously. In fact, one of the customers used it on a couple of his classic cars worth over a hundred thousand dollars. On numerous occasions, they would prefer this over a Meguiar's wax. One specifically mentioned doing a side by side comparo of both products and Liquid Glass produced a better shine and a slicker surface.
"I have a black BMW 740iL. The previous owners did not take the best of care with the paint. It has/had some swirl marks on a few parts of the car... (Read More)"
"If I was putting this on a new vehicle, "Liquid Glass" would be perfect, at least 4-stars… (Read More)"
Price
(Back to top)
It is not cheap, but consider the finish and protection you'll get without needing frequent re-applications, it is great value for money in my opinion. More savings can be had because this product is eligible with FREE SHIPPING when you enroll in the Amazon Prime program.

Conclusion
It is not cheap but you get a lot of mileage with every can of Liquid Glass LG-100, each coat will last for months. You can add multiple layers, just make sure to follow the curing time of 4 hours. Application and removal is easy, so you won't need to spend hours waxing you car.