Blue Magic 12A TR-3 Resin Glaze Review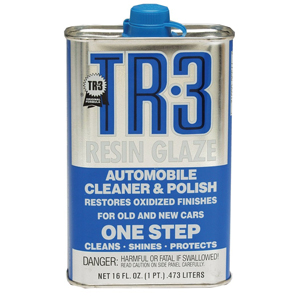 If you look at it's packaging this product looks more like a paint solvent rather than a car care product but the Blue Magic 12A TR-3 Resin Glaze is an all-in-one, single step glaze that claims to clean and rejuvenate oxidized paint and at the same time add a layer of protection. Blue Magic claims that the TR-3 will remove all waxes and all other surface contaminants including oxidation and leave behind a smooth and durable finish that protects.
Based on reviews, a majority seem to agree with this claim, a number of which used this product on their old vehicles whose paint is in bad shape. A boat owner also was satisfied on how this product successfully rejuvenated it's old oxidized and dull paint back to mint condition, another consumer mentioned that this product helped him bring back the shine to a 100 year old sewing machine! So this product is not limited to cars alone.
There were some reviews however that say that the polishes in this product do not work as advertised, some even repeating the process several times… find out if this product is for you you.
Read the rest of the Blue Magic 12A TR-3 Resin Glaze Review below…
Important Note: Before applying wax or sealant be sure you've prepped the paint, doing this gives you a clean surface for the wax or sealant to bond to and this will maximize the protection it gives, your car will also have a better shine. If you haven't read our guides on how to wash, clay and polish, please take the time to do so, it takes a bit more effort but it will be worth it in the end.
Features of Blue Magic 12A
Incredible refurbishing power that does wonders for tarnished, old or faded car finishes
Simple application (one step)
It does not only clean, but also adds a protective layer of coating over the car paint
Blue Magic can be used with other polishers and buffers
Durability & Protection
The TR-3 Resin did not disappoint in this category, the fact that boat owners used this is a testament to it's protective properties as boats are exposed to harsher environment than cars because of salt water and a boat owner does not have the luxury of washing their vehicles periodically, they usually do it per season.
Ease of Application
Before application, give your vehicle a thorough wash to rid the surface of loose dirt and debris. Although you can apply this under the sun or a shade, if the surface to too hot to rest your hands on move your vehicle indoors because the product can dry too quickly.
For hand application use a cotton towel and using medium pressure, "massage" it on the surface until it hazes up, turn the towel frequently once it get's soiled. You may want to have at least 3 to 5 towels as it can soil up towels pretty quickly.
Just in case you will be working with a machine, use a lamb wool pad to apply and if dries up to quickly, spray some water on the surface and continue buffing.
If you are hand-applying this, allot around 2-3 hours as you have to use a lot of elbow grease working on a whole car. Make sure not to apply to much pressure as you can damage the paint.
Should your vehicle be badly oxidized and have little paint left, you may want to use a more aggressive compound. Always test in a small area before doing the whole car.
Ease of Removal
Prior to removal of product, make sure that it's dried up and has a light powdery texture – it means that the resins have bonded with the paint. If is dries up too fast, spray some water to buy you more time in spreading the product like what I mentioned in the previous section.
Gloss
Since this product has polishing properties, it scored high marks in rejuvenating dull paint back to it's glossy showroom state. Take note that there may be streaking or dullness to really badly damaged paint but that can be resolved with further re-applications.
Pro & Cons
Pros
This resin glaze is highly appreciated by the vast majority of customers, who have rated it to almost 5 out of 5. Perhaps what determined some of the buyers to rate it slightly lower is the fact that you need to dedicate some time to restore really old car paint. While it might be lengthy – depending on the condition of the car – the process is not complicated. Essentially, you will need to apply the Blue Magic 12A in sections, wait 30 minutes for it to dry, buff it off with a clean towel and then move on to the next area.
What is remarkable about this car glaze is that you are able to refurbish extremely damaged paint coatings with a bit of dedication and time. As one customer stated, it took several applications, but in the end, he managed to get a fantastic finish to his dad's long forgotten '66 Buick Wildcat. Consumers also used it on a variety of products from boats to even a sewing machine and even RVs. This product will work on both on modern clear coat and older single stage non-clear coat finishes.
Cons
Despite the perceived simplicity of the application process, it can take a lot of effort and time to properly break the product down to get the best results. You'll need to allot a few hours to polish an entire vehicle. Hand application may not be for everyone as a one consumer mentioned that it didn't revived the oxidized paint on his vehicle.
Note that since product has petroleum distillates mixed in, it has a very strong odor, we would advice you for your health's sake to wear a mask when applying this product. Use gloves as well.
Customer Reviews
Most users have noticed that the resin glaze provides way better results than any other compound finished product out there. The detailed review is laid out more clearly in the pros and cons section.
Price
This product is not readily available in local stores but the good news is you can get this in Amazon and avail of the free shipping through the Amazon Prime program.
Conclusion
The Blue Magic 12A is single-step glaze that both polishes and protects, even though it may require a bit more effort and dedication to restore the paint of your car, the results are very impressive and certainly worth it!