Meguiar's Gold Class Clear Coat Liquid Wax Review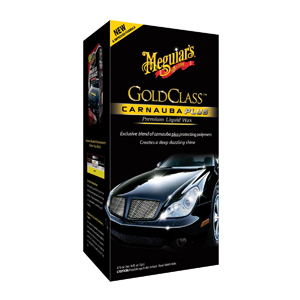 The Meguiar's Gold Class Carnauba Wax has been around for years and the product featured in this article contains a new formulation designed to go on and off easier, resulting in a deeper shine and better durability. Honestly, the opinions concerning the Gold Class clear coat wax developed by Meguiar's, although largely positive, are mixed. We feel obligated to inform you, as either first time or loyal customer of the brand, that this product's effectiveness depends a great deal on the application process.
Based on reviews, the only time to get subpar results with the Gold Class Clear Coat is when you play it by the ear, because after all, you might be wondering isn't all wax coatings vastly similar? No, in fact the subtle differences in the mixture and the various scopes are what separate an efficient product from a hugely unproductive one. And rest assured, the Meguiar's GCCC liquid wax falls in the former category.
Read the rest of the Meguiar's Gold Class Clear Coat Liquid Wax Review below…
Important Note: Before applying wax or sealant be sure you've prepped the paint, doing this gives you a clean surface for the wax or sealant to bond to and this will maximize the protection it gives, your car will also have a better shine. If you haven't read our guides on how to wash, clay and polish, please take the time to do so, it takes a bit more effort but it will be worth it in the end.
Features of Meguiar's Gold Class Clear Coat Liquid Wax
Utilizes the Carnauba ingredient in the mixture for extra durability
The Meguiar's GCCC comes with an applicator for your convenience
The reflections that it can confer are extremely clear and sharp
The quantity of liquid wax in the containers is 16 ounces
The wax container measures 9x2x6 inches
The color of the paint coating will be significantly darker and the richness of the color is emphasized
Should be applied at medium environment temperatures
Ideal humidity level is around or less than 65 percent
Incredibly affordable, like most Meguiar products
Durability & Protection
With this new formulation, Meguiar's added polymers to a mixture that already includes carnauba which supposedly makes this wax more durable, however it will not compete with other waxes in the market like Liquid Glass or Nu Finish that's tested time and time again give your vehicle months of protection. Expect it to hold up for around a month more or less depending on the weather conditions you are in.
To get the maximum durability and protection, make sure you do the proper steps PRIOR to applying this wax like washing, claying and polishing (if there are lot of swirls and oxidation). This will give the wax a clean surface to bond to, allowing it to last longer and have a better gloss.
Ease of Application
Not as smooth as other easy-to-apply waxes like Mothers or P21S but this newer version makes this process easier. Avoid applying it on a surface too hot or cold though. To put it simply, you do not want excessive heat because that will just cause high evaporation levels for the wax – it is liquid after all. But you don't want extremely low temperatures either, because that will just complicate the buffing task and will extend the duration of the job substantially. Take note that it has an applicator pad included in inside.
Ease of Removal
The old formulation has had complaints about being difficult to remove, the 2012 version has improved in this area. Despite that, you still have to follow the instructions. Avoid applying in temperatures too high because the product will dissolve rather quickly and not adhere to the surface – wasting your time and effort. Applying it when it's too cold will result in the wax hardening and become very difficult to remove – again another time waster.
Gloss
Probably the strongest facet of this product. It gives a deep and wet finish that is as smooth as glass to darker vehicles, especially black. Has pretty good filling properties so light swirl marks are hidden with a layer of this product.
Pro & Cons
Pros
Despite being in the market for a while there aren't a whole lot of reviews online. Within that limited number, it still rates well. A majority consumers like how this product deepens and adds depth to the shine of their vehicles. It is fairly easy to apply and remove provided that you follow the instructions prior to slapping a coat on your vehicle. It won't leave too much residue or streaking afterwards and leaves a smooth buttery mirror finish.
Notice that a majority of folks who reviewed this product have dark vehicles – a majority of them are black.
Cons
With an overwhelmingly positive response, you'd think this wax is perfect but it isn't, this product has it's flaws. The problem here is the conflicting reviews which can be confusing. Though a lot of people loved how easy it is to put on and remove, there were those who said it was very difficult to buff off, leaving a lot of streaks and residue. This all goes back to following the instructions which are discussed in the previous sections.
Reviews also were mixed in terms of the shine, either they love it or say it was average. The glossy effect also isn't as dramatic on lighter colored vehicles, so you may want to look elsewhere if you have a white or silver car.
Customer Reviews
A majority of people gave it a positive score, there are several however that gave it a really low rating that pulled it's overall rating down. It can be a bit confusing so we further investigated and laid it out in detail in the pros and cons section.
Price
Priced rather competitively and readily available in retail stores but expect to pay a higher price compared to online shops like Amazon but comparing it to other higher-end waxes in the Meguiar's product line, it is a bargain. Check it out on Amazon to get the best price, get FREE SHIPPING if you sign up of their Amazon Prime program.
Conclusion
It's really difficult to accurately convey the effectiveness of applying Meguiar's Gold Class Clear Coat wax but we recommend this product for folks who doesn't mind to wax often and owns a darker colored automobile. Just remember, if you want the Carnauba and the other ingredients in the mixture to genuinely boost the richness and clearness of the paint, you need to do your own part as well.