Collinite Insulator Wax Review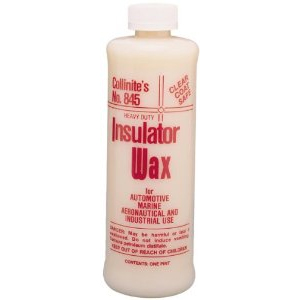 Collonite was originally developed and formulated the Insulator Wax for the power industry that demanded heavy duty protection against high voltage power failure, fires and explosions. You can also get that same protection and durability for your vehicle with the Collinite 845.
Car owners who used this almost unanimously raved about the combination of shine, gloss and durability that this wax offers, even better than more popular brands on the market. It is easy to apply and remove, you just have to follow the instructions.
It is not only limited for cars, motorcycle and boat owners use the 845 to protect their vehicles. As one customer stated, this is the "secret wax of boat owners". Don't let the simple white and red packaging discourage you from buying this. Here are a few more things you need to know about this car wax before you buy.
Read the rest of the Collinite Insulator Wax Review below…
Features of Collinite® Insulator Wax (16 oz.)
The ingredients used in the Collinite Insulator Wax comprise of carnauba and artificially synthesized waxes
The product is considered heavy duty (one application lasts between 2 and 4 months)
It is 100% clear coat safe (does not contain abrasive ingredients)
Not designed to clean, remove blemishes, imperfections, swirls and scratches
The wax coating does not wear off easily
The manufacturer has been in business for over 30 years (20 years in the number 1 position of wax producers – that's remarkable!)
There is no need for heavy buffing (fairly simple and quick application procedure)
Primarily used for the protection of the standard porcelain insulator (it entered the automotive industry later on)
The effectiveness of the coating recommends it for salt water watercrafts too
Cost-effective (in terms of durability versus price)
Double applications considerably improve the efficiency
Durability & Protection
The number one reason to wax is to protect the paint from harsh elements to maintain it's luster and shine. The Collinite Insulator Wax, it's best selling and most popular product excels in this department. Some who've purchased this product raved about it's durability and protection even against harshest weather conditions, one customer noted that it lasted him a full year.
Ease of Application
A great feature of the insulator wax is how easy it is to get an even and thin coating as most consumers who bought this wax noted. An added bonus is you can effectively apply multiple layers to add to it's durability. The opinion regarding the time frame between the application of the first and second coat of wax vary, as while some prefer to wait between 12 and 24 hours, others consider that an hour or less is more than enough waiting time between the buffing and slapping on a second coat.
Consumers who've had a hard time applying this by hand switched to a porter cable with an LC finishing pad with great results.
You should note that the Collinite wax should not be applied directly without shaking the container first because as the wax sits idle the ingredients will separate resulting in a watery feel. So make sure you shake that container before using it! If it hardens or turns semi solid, heat it in warm water so that it goes back to it's natural consistency.
You can also apply this product on a hot surface or under the sun, when you do this though, wax and buff on a 2 square foot area and not allow it to dry.
Ease of Removal
This product is relatively easy to remove provided that you follow two important prerequisites – use only thin coats and after it hazes immediately buff off! When left on an extended period  and allowed to dry this product can be tough to remove.
Gloss
This can be subjective but the general consensus of consumers say that they love the shine with a hint of a warm carnauba glow this product gives, take note that this product isn't designed to take off scratches as one customer complained about, it is designed to protect paint as a pure wax. Take note that the 845 doesn't fill well if your vehicle has noticeable swirl marks on it, it will still be visible after application, address this with a good polish prior to wax application.
Pro & Cons
Pros
Overall, the majority of consumers loved how well this product protected – so good that they've used it on their windshield and wheels saving them money on buying separate products. While other brands may require you more frequent re-applications to maintain a layer of protection on your paint, the Collinite Insulator Wax does not, one coat will last as much as 3-4 months. In fact, a customer who used this product claimed that he applied applied 2 coats on his Camry and it still beads 3 years after. It comes as no surprise that this type of wax received numerous praises from highly satisfied customers and particularly vehicle owners who live in environments that demand extra paint protection.
As mentioned in the feature section, users can boost the durability of this wax by applying more than one layer. Regardless of whether you intend to apply one layer or two, the guideline is the same: always use thin layers for maximum efficiency and gloss.
This product is versatile and not limited to painted surfaces, you can also use this any non porous surface such as windshield, fiberglass, tiles, doors, mirrors but not on non-painted plastic or rubber moldings. You can use this product as well to replace your wheel wax because it can hold up to the heat and will protect your rims from the damaging effects of brake dust.
To obtain the gel consistency, the wax can be either shaken firmly or subjected to heat. Otherwise, it will drip directly off the surface rather than properly adhere to it.
Cons
Despite having a near unanimous 5 star rating there are some people who weren't satisfied with the performance of this wax. As the saying goes you can't please them all, let's go over several issues that some buyers have.
It cannot remove water marks or stains because this is purely a wax, it doesn't have any cleaners or polishes. This product is not readily available in your local store but you can purchase it online via our website or other online stores.
The bottle design can leave a lot to be desired, at you can spill some of the wax if you're not careful. Also be care must be taken when turning the cap as it can be easily stripped.
You may notice a strong odor from this product as some consumers have noted in their reviews, this may be a health concern for some but you can remedy this by wearing a mask as you apply. The strong odor is due to the synthetic ingredients that this wax has that contributes to the overall durability.
Customer Reviews
The majority of reviews both in amazon and car care forums such as autopia are very positive, a number of which compare this favorably to the very popular Zaino. One customer mentioned that Collonite was better than Klasse, Wolfgang, DP, Mothers, Turtle Wax, Blue Coral, talk about a bold claim! Another one mentioned this being the best carnauba wax in the market!
"if you are serious about putting a strong durable coat of wax on your car with easy on easy off application then this is the wax for you… (Read More)"
"I waxed half of my car with collinite wax and the other half with turtle wax. There was no difference in shine or water beading…. (Read More)"
Price
(Back to top)
The Insulator Wax is not cheap but for the price you get a lot for your money, the fact that you need thin coats means that you don't need to use a lot to cover an entire vehicle. Extended periods between re-applications also means less time spend on working on your car and more time to do something else. Check it out on Amazon to get the best price.
Conclusion
If you want to give maximum protection for your vehicle, while still maintaining a high level of gloss and depth, that's easy to apply and remove without too much residue then keep the Collinite Insulator Wax in mind.